Best Homeopathy Doctor For Skin Allergy In Kurnool
Noticing that your skin has suddenly become red, bumpy, and itchy can be upsetting, painful, and embarrassing. Numerous factors, including contact with specific plants, allergies to drugs or foods, and other factors, can result in rashes. A disease like measles or chickenpox can also result in rashes. However, it can be cured with treatment and homeopathic medicine for allergy in skin. Click on either of the buttons below to cure your skin ailments with the help of the best homeopathy doctor for skin allergy in Kurnool & nearby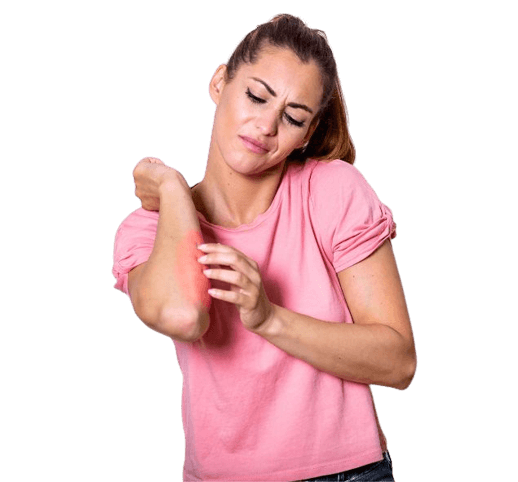 Allergy Treatment In Homeopathy
Our skin acts as a barrier that protects the inside of the body and serves as the first line of defense. Our skin's layers are filled with immune system cells that protect the body and skin from viruses, bacteria, and other pathogens. When skin cells detect a potentially harmful substance, they initiate a reaction that causes the area to become red and inflamed. This is known as inflammation, a rash, or dermatitis, and it causes itching. However, these conditions can be cured easily with homeopathy.
Implementing Homeopathy For Skin Allergy At Dr. Vedas Homeopathy
Homeopathy is a medical system that not only identifies skin problems at their root, but also comprehends the nature of each individual's skin and treats skin allergies without provoking any harmful side effects. Since allergies are not common in everyone, it is critical to identify each individual's skin type and the type of allergen by which the person is affected. Thus, homeopathy is the best method of treating skin allergies. Dr. Vedas implements safe and reliable homeopathy treatments for skin allergies.
A variety of factors can contribute to irritated skin. Immune system disorders, prescription drugs, and infections are a few examples of these. An allergic skin condition occurs when an allergen is responsible for eliciting an immune system response. The types of skin allergies include:
Atopic Dermatitis (Eczema)
Allergic Contact Dermatitis
Urticaria (Hives)
Angioedema
Hereditary angioedema (HAE)
A skin allergy is caused when the immune system reacts to something in the environment, resulting in an allergic reaction. Pollen, food, plants, certain medications, and other allergens can all cause allergies. Itching, redness, bumps and other skin problems are fairly common. Sometimes the cause is not immediately apparent. It can also be caused by medical conditions such as chickenpox or measles. These can be cured with mild treatments and implementing homeopathy medicine for skin allergy and itching. Some of the common causes of skin allergy include:
Contact dermatitis
Medications
Infections
Autoimmune conditions
Skin allergies of all kinds are referred to as hypersensitivity reactions in medicine. Type 1 hypersensitivity reaction manifests as an immediate reaction, while Type 4 hypersensitivity reaction manifests as a delayed reaction. A skin rash is the main indication of an allergic skin reaction. The rash may begin as an itching sensation, a bump, or redness, and you may eventually experience any of the following:
Rash
Redness
Itching
Swelling
Scaling or flaking of skin
Raised bumps
Cracked skin
Restore your health naturally and effectively!
Our Homeopathy Doctors are constantly evaluating and implementing ways to improve patient safety.
Reliable Skin Allergy Treatment In Homeopathy
There are numerous types of skin allergic reactions. These could be the result of faulty body systems. Fortunately, homeopathic remedies have many solutions for the wide range of causes of skin rashes. These homeopathic remedies are intended to treat the underlying cause of the affliction. At Dr. Vedas you get everything from sun allergy treatment to other painless treatments & homeopathy medicine for itching and rashes.
Best Homeopathy Hospital For Skin Allergy In Kurnool
Many people in the country suffer from skin allergies. When the immune system reacts to an allergen or toxin, the condition occurs. People suffering from skin allergies frequently seek treatment at the best homeopathy clinic available in the area. They often tend to hit the search engine looking for things like "homeopathy doctor for skin allergy near me" and "allergy specialist doctor near me". If your research has led you here, you can be assured that you are at the right place.
Best Homeopathy in Kurnool
Skin allergies vary from skin to skin and person to person. Our doctors will run a detailed diagnosis and then prescribe the best medication for you, based on your skin, health, etc.
The best option for skin allergy treatment is homeopathy, which seeks to cure the underlying cause. It will provide you with long-term & permanent allergy relief.
When compared to conventional medication, the treatment of chronic skin diseases with homeopathic remedies happens to be more safe and satisfactory to the patient, with improvements in quality of life and general health lasting up to two years.
Other Treatments at Dr. Vedas Homeopathy Kurnool
Dr. Vedas Homeopathy offer a wide range of treatments for all age groups, including infants, kids, teens, pregnant women, and the elderly, can safely get these treatments.
Along with effectiveness and cutting-edge treatments, we also improve the mode of therapy with more recent modalities, which makes it distinctive and the World Class Homeopathy in contrast to other chemical based treatments. With its effectiveness and capacity to heal any condition, it has been said that homoeopathy itself must be the most dependable medicine in the world.